The technology you have been waiting for since you first started your practice . . .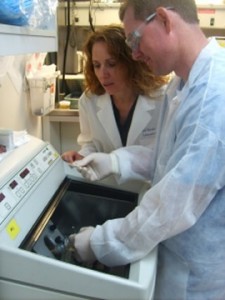 The frozen section is a pathological laboratory procedure designed to perform rapid microscopic analysis of a specimen. It is used most often in ontological surgery. The quality of the slides produced by frozen sections is of lower quality than formalin fixed, paraffin embedded, tissue processing. While diagnosis can be rendered in many cases, fixed tissue processing is preferred in many conditions for more accurate diagnosis. RTIS™ allows rapid consultation directly with the surgeon from the pathologist.
The intraoperative consultation report given by the pathologist is usually limited to a "benign" or "malignant" diagnosis, and communicated to the surgeon operating via intercom or telephone. RTIS™ allows visual confirmed malignancy, which is the main purpose of the pathologist to inform the surgeon if the surgical margin is clear of residual cancer, or if residual cancer is present at the surgical margin.


Enable true consultation between surgeon and pathologist!