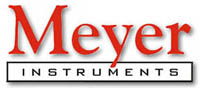 Meyer Instruments, Inc. is an independent microscope dealer specializing in digital imaging systems for microscopy. We provide state of the art microscopes, stereomicroscopes, surgical microscopes, digital cameras, lighting, digital slide scanners and imaging software for all biomedical, industrial and surgical applications. 20 years ago we helped start the digital slide scanning market with the invention of our patented PathScan Enabler. We were the first in the US to develop and offer inexpensive Extended Depth of Field (EDF) software. We have developed the new RTIS™ using our years of experience listening to the needs of our customers. Being able to see the 'big picture' and connecting the right products together to form integrated system has always been our specialty. Additionally, we offer Media Cybernetics image analysis software, Linkam heating stages, Hamamatsu digital slide scanners, Schott fiber optics and a host of third party microscope related products. For the past 32 years, we have been offering outstanding product knowledge and imaging expertise. We offer systems integration, on site installation and custom software developer. Meyer Instruments, Inc. office is located in West Houston and has an extensive demonstration facility.
Our markets include biomedical research, clinical, industrial, manufacturing, semi conductor, geological and the government. Our customers include medical schools, universities, hospitals, clinics, oil companies, semiconductor manufactures and companies whose focus is bio-medically or industrially oriented. We offer instruments from student level microscopes and stereomicroscopes to specialized long distance microscopes, digital cameras and digital scanners. RTIS™ is our latest technological break through.
Our staff is comprised entirely of talented people with scientific backgrounds. Training after the sale is critically important and our people provide comprehensive instruction. Custom software applications can be tailored to your imaging needs. We offer proof of concept proposals for all custom application and high contract services including microphotography and image processing and analysis.
Meyer Instruments, Inc.
Call us
281-579-0342
Our office location
Meyer Instruments, Inc.
Houston, Texas 77084
https://www.meyerinst.com